Deadside Marrow Gates
Edit
"I am the Lord of Deadside, Shadowborn at the confluence of worlds to walk between.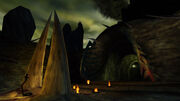 Liveside is without the meaning that my partly living possesses here in Deadside, where the darkness is manifest at the edges of reason.
As a God, I step forth upon the writhing, suppurating surface of the Deadside Serpent.' What sleep is here? What dreams there are in the unctuous coilings of the snake's mortal shuffling. Weapon in my hand, my hand, the arching deathblow at the End of All Things.The horror. The horror. I embrace it."
- Shadow Man at the entrance to the Marrow Gates
The Marrow Gates are the first Deadside level in the game. Here Shadow Man meets Jaunty, who acts as a gatekeeper. The Marrow Gates are, like the name suggests, made of bone and resemble a giant human rib cage.
Trivia info
Edit
In the Shadow Man comic by Acclaim they are referred to as the "Boneyard Gates"
In Shadow Man 2 Second Coming they are also referred to as the "Boneyard Gates". The level itself is still called Deadside but a specific "town" or area with Deadwings and huts built on stilts is called "The Boneyard."