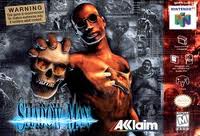 The Mask of Shadows
is a mask made out of bone that is implanted by
Mama Nettie
in
Michael LeRoi
's chest held together by his ribs
and voodoo magic.
All of the other Shadow Men including Jack Boniface wore the mask on their face. Michael LeRoi has the mask sewn into his chest because Nettie's voodoo powers were weak and she had to 'cut corners' because of that weakness. Mike is a slave to the mask but he can use it to channel his powers of the ShadowGun to defeat the duppies of Deadside and prevent them from coming to the land of the living.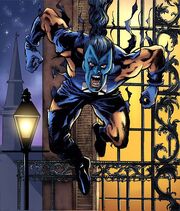 Ad blocker interference detected!
Wikia is a free-to-use site that makes money from advertising. We have a modified experience for viewers using ad blockers

Wikia is not accessible if you've made further modifications. Remove the custom ad blocker rule(s) and the page will load as expected.